Being a mother of four children, a wife to a mechanic, a pet owner to three large dogs, and a kitty means lots of messes to clean up.  There's always something that needs washed, wiped, bathed, swept, or vacuumed.  It's never-ending, but it's all part of being mom.  I often wish that having a large family meant having more people to help around the house.  Sadly, it doesn't, lol only in moms happy place.
Don't get me wrong, my husband helps.  He is god sent and I am blessed to have such an incredible man in my life.  Seriously, he is not above grabbing the broom, vacuum, dirty cloths, bathing kids, none of it.  He's my partner 100% of the time, I love him.  However, asking our children to grab a broom and sweep, or do the dishes is a chore all in its own.  There's the little noises they make, letting you know they're not happy, or the acting like they didn't hear you and running off to their room.  They act like we were not children once, lol.  We wrote the book on these tricks they try to play.
With all the traffic that goes on in our home we vacuum about every other day.  If we let it go much more than that, I can tell.  There's nothing I hate more than my floor looking dirty.  Yes all of them.  My kitchen, bathroom, and all carpeted floors.  If they look and feel clean, I feel better.  When my floors look messy, mom is cranky.  Please don't do that to mom, lol.
Well get this! 
I have been lucky enough to review a Panasonic JetForce Vacuum MC-UL427 Vacuum, which by the way is FREAKING AMAZING AND PURPLE!  Anyway, I have had it for about a week, and I've had to fight with my children and my husband to use the vacuum.  No, joke…  See this picture of my toddler?  Yes, she is crying and pouting because she had to let her sister have a turn using our new Panasonic JetForce Vacuum.  Man if I had known that getting my kids to help was this easy, I would have bought it a long time ago.  It's seriously an amazing vacuum, and you can pick it up for only $149.00.  For an awesome vacuum that can keep up with four children, a mechanic husband, three dogs (which are inside every evening/night, and a kitty, and get my children to help out around the house willingly.  $149 is NOTHING, if it gets my children helping!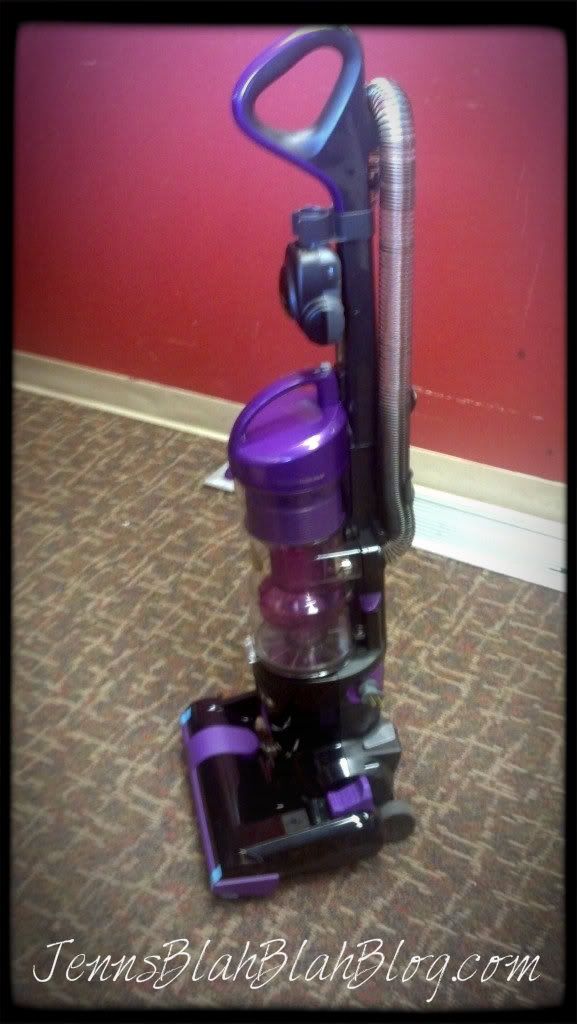 When it comes to cleaning up messes in my family's life, Panasonic has surpassed our expectations.  It not only keeps up with our families messes, but has the best technology, and comfort in mind.  The Panasonic JetForce Vacuum not only works on all levels of carpet, but multiple floor surfaces, and includes various specialty attachments and features such as:
Pet Hair Air Turbine Brush
Stretch Hose
Dusting Brush
Automatic Carpet Height Adjustment
HEPA Filter
Powerful 12-Amp Motor
Bare Floor Option
24′ Automatic Cord Reel
13″ Cleaning Path
Soft Wheels
LOVE THAT IT'S PURPLE
We have used the Panasonic JetForce on more than just the floors.  We have used it to clean the couches, chairs, curtains, and even dust off the window seals.  I also have to brag about the comfort, seriously it's not only lightweight, but it has a unique handle.  At first I wasn't sure about the handle, but after using it I really like it.  It makes pushing the vacuum around more comfortable.
So let me give you the rundown of why we're so happy with the Panasonic JetForce Vacuum.  About three months ago, we bought a new Hoover Vacuum.  Which we loved, we really thought it got the job done.  When we used it, it got all the dirt up.  So we thought!
When we used the Panasonic JetForce for the first time, we had vacuumed the day before.  So all that fine dirt and dog hair that's trapped in the carpet should have been gone.  I really didn't think we would get much up.  BOY, WAS I WRONG.  The picture to the left is all the fine dirt and hair that was picked up.  Pretty nasty isn't it, and to think I'm picky about my floors.  My husband and I were both amazed how much fine dirt and dog hair the Panasonic JetForce picked up.  In our bedroom alone we filled up the canister?  When we went to empty it out, all that was in the canister was very fine dust and dog hair.  Everything that our other vacuum missed, I can honestly say we were both amazed!  We both thought our Hoover did a good job picking up all the fine dirt and hair.  It just goes to show how important having a good vacuum is if you want to know your floor is clean.
We put up our Christmas tree yesterday, we pulled all the couches away from the wall and really cleaned good.  We vacuumed with the Panasonic JetForce, and walking on the carpet after vacuuming was awesome.  The carpet felt soft and CLEAN!  The entire floor looks and feels amazing.  We also used it to vacuum our kitchen with the bare floor setting, which worked great.
We're hosting Christmas Dinner at our home this year.  I always freak out about making sure my house is clean.  I am excited about using our new Panasonic JetForce to vacuum before our guest come.  The difference it makes is our carpet is great, I never would have thought a vacuum that costs less than $150 would do this.  I really thought I was going to have to save up, and drop some serious cash to get the results I wanted out of a vacuum.
So what are my favorite features?
The JetForce separates the dust and air via centrifugal force and an hour glass shape dust container, which helps the vacuum lose any suction.   It works, awesome!
Pet hair removal attachments, that work on furniture, curtains, etc.
Automatic carpet height adjustment is awesome.
IT'S LIGHT ENOUGH FOR MY TODDLER TO PUSH AROUND!  Weighs under 15 pounds.
No bags.
Long reel cord.
Pet Hair Air Turbine Brush.
Works awesome on bare floors, as well as carpets.
Easy-to-empty, bottom drop dirt cup for quick and clean dirt disposal.
I LOVE THE UNIQUE HANDLE, it's more comfortable and easier to maneuver the vacuum.
Most of all, IT WORKS!  This vacuum does what it claims and then some.  I can honestly say, it worth every penny you'll spend on it.
My kids, LOVE IT….. They really fight over who gets the vacuum.
Now if they only had it in pink.  Yes, I know it's purple and that's cool, don't get me wrong.  But if you follow my blog, you know I'm a pink kinda gal!
We've been using the Panasonic JetForce for a little over and week and are extremely happy with the results on carpet, bare floor, chairs, couches, and curtains.  I cannot recommend this vacuum enough.  We are very pleased, thank you from all 6 of us Panasonic you've caused lots of GOOD CLEAN fights in this house.  LOL, HAD I ONLY KNOWN ALL THIS TIME IT WOULD COST ME LESS THAN $150!
This mommy cannot recommend the Panasonic JetForce enough.  My husband recommends it as well.  This mom and dad give the Panasonic JetForce TWO THUMBS UP!  If you're looking for a great vacuum, at an affordable price be sure to consider the Panasonic JetForce Vacuum MC-UL427.
"I participated in a campaign on behalf of Mom Central Consulting for Panasonic. I received a product to facilitate my review."