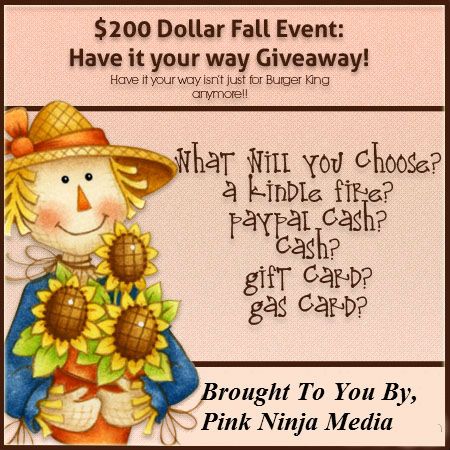 Welcome to a fabulous giveaway!
Brought to you by,
Jenn's Blah Blah Blog, Dishin' With Rebelle, and Contest 4 That,
who will proudly be launching Pink Ninja Media in the next few weeks.
Co-hosts Zoes Printable Coupons, PrewChatterly Everything Girly, Capri's Coupons,
Simply Shawn & Jenn, Moms Vacation Spots, and Pink Ninja Blogger.
Dang we must be crazy!  WE ARE! CRAZY ABOUT OUR READERS!  Without you what we do, well it just wouldn't be worth it!  This is our way of saying thank you for being so supporitive.  I can honestly say, I have the most supportive group I!  I am the luckiest blogger every!  I've never seen such amazing people!  This event is for you!
So what do you really win?  ANYTHING YOU WANT!  Seriously, anything you want valued up to $200!  Why would we do this?  We know everyone is different and we all want different things, so why in the world would we offer you a Kindle Fire, when some of you want PayPal Cash, or iPods?
If you win, who orders?  Jenn's Blah Blah Blog will take care of any ordering you need.  Remember prize cannot cost more than $200 shipping included!
About the giveaway:
Worldwide Giveaway.
Giveaway will start on September 20, 2012 at 12:01am EST and end on October 20, 2012 at 11:59pm EST.
One Lucky Person Will Win ANYTHING THEY WANT, valued up to $200 with shipping.
Please use the Rafflecopter form below to enter
We realize there's a lot of bloggers, so we added extra entries!
Earn an additional 25 entries for completing certain tasks on the Rafflecopter.
This is a rather large event!  Keep in mind that you do not have to complete everything to enter the giveaway.  The only entries that need to be completed are the mandatory entries and you're in!  However, you're probably going to want to take advantage of all the entries, so we've left it open for an entire month so you have plenty of time to complete the giveaway.  You can also take advantage of daily entries, yes come back every day to earn even more!
a Rafflecopter giveaway

Disclaimer: This blog is not responsible for shipment of prize, Jenn's Blah Blah Blog will be responsible for shipping prize to winner.  I did not accept any form of payment to help promote this giveaway.