If you're new to blogging it's likely you want to make money blogging, but are not sure where to start.  Right out the gates blogging can be confusing, and stressful.  I mean SE – what's that called again, keyword when again.  Blogging is hard work, and you should make money doing it, but the only way you are going to is if you are dedicated to your blog.  I mean you want to make money blogging, shouldn't you run it as you would a business?
Before we get started on how to make money blogging, I wanted to remind you that it's important to take things one day at a time, and really learn the ropes.  Everything takes time to fall into place, and it will take even more time for you to make a name for yourself.
5 Ways to Make Money Blogging
Sponsored Posts 
There are several places out there that you can write sponsored post for.
Offer Products or Services
Your blog is a great way to offer a product or service.  Whether you have a online store, or design websites, having a blog is a great way to get word out.
AdSense
Placing ads on your site can help you generate income.  Google's AdSense is a great option.
Personal Appearances and Speaking
If you blog becomes really popular you might find yourself being asked to speak, and travel.
Monetize Images
I recently learned about a platform called Paletly, which is a style search platform that allows users to shop directly from celebrity and street style images.  It sounds pretty net, especially for all the fashion bloggers out there.
Monetize Your Blog With Paletly
Paletly uses image recognition algorithm, and it is able to identify the clothing that is worn in a fashion image, and bring back similar products, from more than 1200 global fashion retailers, and they are extending this awesome technology to bloggers.
Paletly has actually launched a Paletly 'Shop Similar' widget.  The widget will allow fashion bloggers to monetize their blogs by transforming their blog images into nice and neat looking shopping windows.  Check out the Paletly Demo to see it in action.  The widget is a non-intrusive shopping carousel that your readers will see below the image, and it will showcase similar products as the items found in the image.  When you reader s clicks on any of the items they will be redirected to the shopping retailer for the purchase.  As a blogger you can earn up to 10% in sales commission for every purchase made from your blog.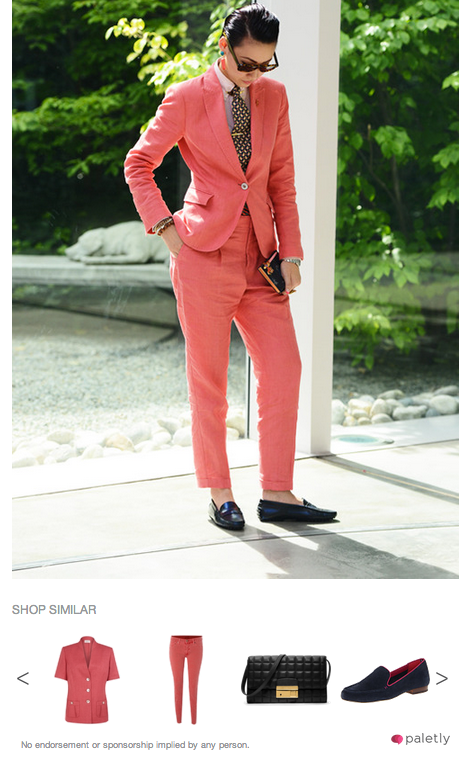 The 'Shop Similar' widget you can add new revenue stream to you blog, while enriching your content. Users can keep track of all the purchases made from their blogs using the Paletly Blogger Program.  There is a minimum payout of $25.  Once your minimum payout is reached you will be paid via PayPal.  Registering is easy, and you will be given a single code snippet to install on your blog.  Once you have installed the snippet all you have to do is sit back and watch!