I recently received 2 shirts from Better Than Pants if you love funny shirts keep reading!  I love their name, Better Than Pants!  Pretty catchy name for a funny shirt company right?  I thought so anyway.
The two shirts I received were women's spaghetti strapped tank's.  They are super cute!  Honestly it took me 2 days to pick out shirts that I wanted because there are so many funny shirts to choose from. The pink Ninja women's tank below!  We are always saying something about ninja's in our house so it just fit.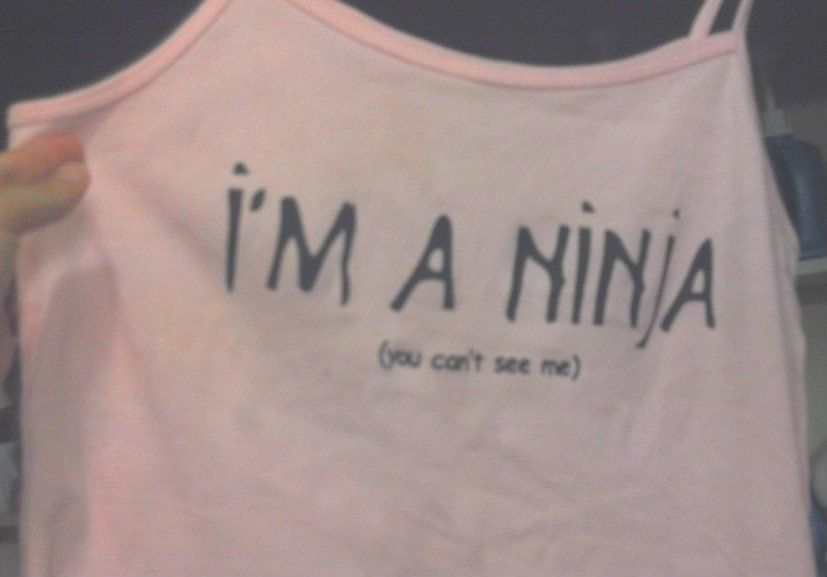 The other shirt I picked was just like the Ninja spaghetti tank top, but said Zombie Kill or be Eaten!  There is a joke behind the Zombie shirt!  For those of you who did not read my story about my 13-year-old an Zombies, you may want to read it so you understand why I picked this shirt for my daughter.  If you would like to go back and read about Catie and Zombies I will include a link at the end of the review.
BetterThanPants is amazing, if you are looking for funny shirts I suggest visiting their website.  What kinds of shirts do they carry?  They carry 11 different styles and 11 different colors!  Everything from regular men t-shirts to women's babydoll shirts!
They also carry a Hoodies as well as shirts!  Their shirts also come in many colors. What I enjoyed about shopping on the BetterThanPants website, is when you change your shirt style or color the image changes as well.  There is nothing that irritates me more than shopping online and there isn't an example in that particular style or color.  Sometimes a website say's an item is blue when in fact its a light blue, maybe even turquoise!  If you are an online shopped I am sure you understand my frustration.
I have nothing negative to say about this experience, other than I want another shirt!  Below are a few designs I thought were funny, I wanted to post more but I will let you check it out!
There is tons of quality shirts to choose from! Better Than Pants shirts are affordable, price depends on style of shirt that you purchase.  They have funny shirts for many occasions such as;
Holiday
Facebook Shirts
Text & Sayings
Nerd and Internet
Sports
Women Maternity Shirts
There is much more to choose from!
I always like to share a little bit about the company, it's important we know who we are buying from. BetterThanPants was started because they were sick of looking online for new awesome t-shirts and running into the same companies with low quality t-shirts!  All shirts from Better Than Pants are printed on high quality cotton and is designed by Better Than Pants themselves or some awesome viewers!  They strive to always have the best designs available and a name you can trust.  If you have an awesome idea for a shirt, contact them they'll pay you cash!  Every design offers 11 different styles, 11 colors, and sizes up to 5XL!  It's seriously a one stop shop if you are looking for awesome shirts at an affordable price!
Not only do they have quality shirts at affordable prices, they have been awesome to work with.  I have enjoyed my experience with BetterThanPants and suggest them for your funny shirt needs! If you want to see more you are going visit Better Than Pants Online!
I received this product for review, however I always provide my 100% honest feedback and is based off my own personal experience.  However I only provide reviews on product I feel will be of value to my readers.