If you are not already a member of Sam's Club, they are great and have a fantabulous giveaway for going on right now!  Trust me you want to take a few minutes and enter the Sam's Club giveaway!
Being a mom, I don't know what I would do without my Sam's Club membership.  There are so many reasons to love Sam's Club like:
Club pickup – Order online and pick up your order. BAM, that easy!
Scan and go – No lines, pay right from your phone!
Wholesale pricing – MOMS, you can save here big on! There are great savings on top brands and you can buy it bulk.  It's the best.
Savings – Score extra offers on already low prices.
Yes, mom you can score great savings on all those baby and toddler items and buy in bulk.  Save time and money, it's the good stuff!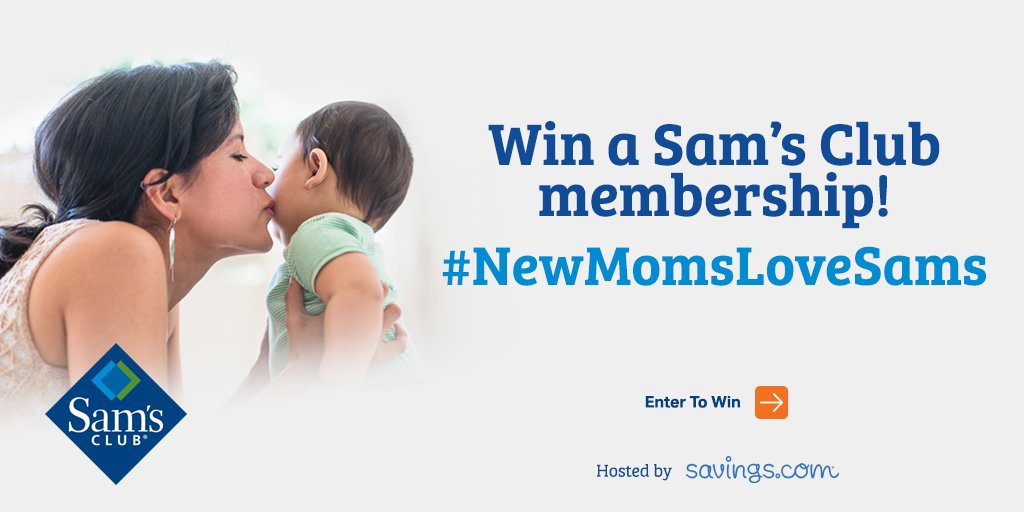 Sam's Club #NewMomsLoveSams Giveaway
Enter to win one of 25 $100 Sam's Plus Gift of Membership Gift Cards!
The Giveaway will run from 11/1/2018 until 11/8/2018! To enter this giveaway, you will head over to Sam's Club page on Savings.com.  All you have to do to enter is enter your email addy into the form located at the top of the page!
Winners will be selected using the lottery drawing and notified on Monday 11/12/2018 using the email address provided to enter the giveaway.
PLUS there is a Twitter Party!
Join us on Tuesday, November 6th at 10AM PT/1PM ET for our #NewMomsLoveSams Twitter party! We'll be talking about all the ways that a Sam's Club membership is beneficial for new moms! There'll be $1500 in gift card prizes up for grabs, so be sure to RSVP to be eligible to win!
Hosts: @savings
Hashtag: #NewMomsLoveSams
Prizes: (15) $100 Sam's Plus Gift of Membership gift cards
RSVP: Enter your Twitter handle here to RSVP.
Oh, and just to let you know right now you can join Sam's Club for $45 and get a FREE $20 Sam's Club Gift Card when you join.
This is a sponsored post written on behalf of Sam's Club. All opinions are my own.