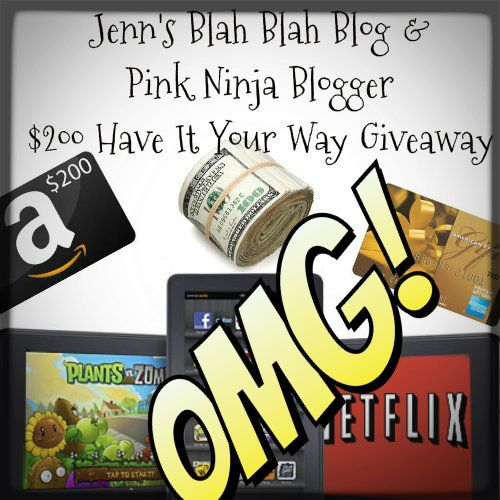 It's that time again, time to start the sign up's for the Jenn's Blah Blah Blog's Have It Your Way Giveaway!
If you're not familiar with how this giveaway works, it's easy!  Winner chooses prize valued up to $200!  ANYTHING THEY WANT, Kindles, Cash, Gift Cards, even a toy for their kido…. Winner picks their own prize, doesn't get much better than that!  Come on and join the fun, this events always super fun!  Thanks for stopping by the details are below!
About The Giveaway
Winner will receive $200 anything they want – if they choose a product shipping is included in the $200.
Giveaway will start on Dec 21, 2012 until Jan 21, 2012 – just in time for the holidays.
Amount of prize may increase – all money received for sign up's will go to the prize so if we earn more money we will put it toward the prize.
FREE Facebook Link – With Announcement Post
Additional links will be $2 – Daily Votes $3 – Paid links will be moved up on Rafflecopter. We appreciate anyone helping give back to the giveaway.
You don't have to post an announcement post, if you choose not to send $5 to admin@jennsblahblahblog.com
DO NOT COPY AND PASTE THIS PAGE FOR YOU'RE ANNOUNCEMENT POST –  CLICK HERE TO 

GRAB ONE HERE

!
We're looking forward to another fabulous giveaway!  Thanks everyone for you support!