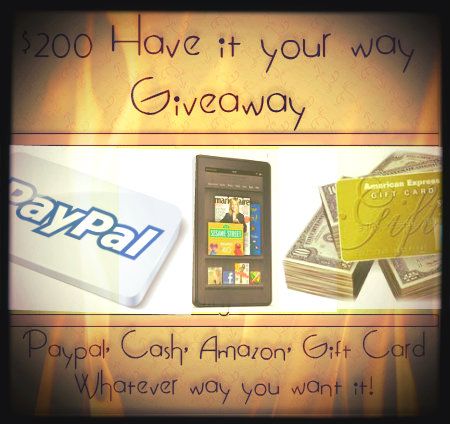 We love the Have It Your Way Giveaway!  It's always such an awesome giveaway!  People like being able to choose their prize, wouldn't you?  I know I sure would!  If you want to have my blogger opportunities emailed to you, be sure and sign up for Jenn's Blah Blah Blog Blogger Opportunity Newsletter. 

We're planning another Have It Your Way Giveaway!  This time we'll be celebrating the launch of Pink Ninja Media!  Jenn's Blah Blah Blog, Dishin With Rebelle and Contest For That are proud to bring you Pink Ninja Media!
Most of you are familiar with how this giveaway works!  If you're not sure how it works let me give you a rundown.  We've put a lot of thought into this event, gone back and forth on what our readers want to win.  Jenn's Blah Blah Blog asked her readers, and after so many different responses we've decided to let the winner choose their prize.  What's better than that?  Nothing, this way everyone's happy.  We get to bring our readers an awesome giveaway, and they win what they want.
On our past Winner Choice Giveaway's I've asked readers to leave comments stating what they will choose if they win.  I honestly thought everyone would choose Paypal Cash.  BOY WAS I WRONG!  While many of them do choose PayPal, some choose Candles, Gift Cards, Gas Cards, Kindles, and other products.  This event is normally a good-sized event, but it's something our readers have responded very well to!  They love that they have control of the prize!  Wouldn't you?
About The Giveaway:
Event will run for a full 30 days.  This gives our readers a chance to come back and complete everything if they choose, or to take advantage of daily entries.
Winner will receive $200 anything they want – if they choose a product shipping is included in the $200.
Giveaway will start on November 5, 2012 and end on December 5, 2012 – just in time for the holidays.
Amount of prize may increase – all money received for sign up's will go to the prize so if we earn more money we will put it toward the prize.
FREE Facebook Link – With Announcement Post
Additional links will be $2 – Daily Votes $3 – Paid links will be moved up on Rafflecopter. We appreciate anyone helping give back to the giveaway.
You don't have to post an announcement post, if you choose not to send $5 to info@pinkninjamedia.com
DO NOT COPY AND PASTE THIS PAGE FOR YOU'RE ANNOUNCEMENT POST – IF YOU CHOOSE NOT TO WRITE YOUR OWN CLICK HERE TO 

GRAB ONE HERE

!
We're looking forward to another fabulous giveaway!  Thanks everyone for you support!