This is a Sponsored post written by me on behalf of American Frozen Foods Institute and the Frozen Food Roundtable. All opinions are 100% mine.
I have been playing travel blogger a lot recently, it's been a blast, but my poor husband who is working 10-14 hours a day, picking up kids, cooking dinner, giving baths, and everything else my husband and I typically do together, alone.  Since I know how crazy things can get I wanted to be sure my husband was prepared with things that would make his time with the kids less stressful, and more fun.  I know the kids look forward to having one parent all to themselves, because we typically tend to get a little crazier than we normally are.  Since cooking is the last thing anyone wants to do when you have to have four children out of the door by 6am, or after working a 12 hour day, I grabbed a few of our favorite frozen foods.  Have you heard of all the benefits of frozen foods?  
Fresh vs Frozen: How Fresh Stays Fresh
I think we would all agree that fresh food is amazing, but what is the deal when you compare fresh vs frozen?   Well, frozen foods are made with real ingredients and from real recipes, and frozen is how fresh stays fresh – locks in the yummy flavor, nutrients, and freshness of the foods you love.  I personally love the variety of frozen, easy to make meals. 
Freezing is simply nature's pause button, nothing more, nothing less. Freezing is a natural way to lock in the freshness and nutrition of your favorite foods.
A ground breaking new study from the University of Georgia, commissioned by the Frozen Food Foundation, compared the nutrient content of eight commonly purchased frozen and fresh-stored vegetables – blueberries, strawberries, corn, broccoli, cauliflower, green beans, green peas and spinach. The results of this unique "market basket" study conclusively demonstrate that frozen fruits and vegetables are nutritionally equal to – and in many cases superior to – their fresh counterparts. For more on how "nature's pause button" stacked up, visit frozenfoodfacts.org.  
Thankfully there are great benefits of frozen foods, because my husband and kids like frozen foods.  To be honest, my kids think eating them is a treat, lol.  Little do they know that freezing foods is a natural way to lock in the freshness and nutrition.    Freezing is how fresh food stays fresh; it naturally pauses inspired recipes made with fresh ingredients and suspends them until you are ready to enjoy them, which locks in all the freshness, nutrition, and yummy flavor. 
Before I left for San Francisco I bought some of our favorite frozen food makers and retailers like General Mills, ConAgra Foods, Heinz, Kellogg's, Hillshire, Schwan's, Nestle, and Pinnacle – especially since the foods prepared in their kitchens are the same as foods prepared in my kitchen.  Yepie, I love it – Frozen. How Fresh Stays Fresh.
Here are a few of our favorite frozen foods
ConAgra Healthy Choice Café Steamers – Love the crisp veggies, yummy tender and juicy chicken, mixed with pasta! 
Nestle Hot Pockets® and Lean Pockets® – My husband loves the Hot Pockets®, I prefer the Lean Pockets®, and the kids don't care which one they get.  Great for everyone in the family.
Heinz Smart Ones – There are several that I love, but I recently tried the Three Cheese Ziti Marinara and it's great.  Only 8 Weight Watcher's points for all you doing the program.
Nestle Lean Cuisine® – My husband and I love Lean Cuisine.  They make a great lunch for him at work, and they are perfect for me, especially once the kids return to school. 
Hillshire Jimmy Deal Sausage, Egg, and Cheese Croissant Sandwich – My husband's favorite fast and easy breakfast.  If my husband doesn't have something fast and easy for breakfast he wont eat so I try to keep Jimmy Dean around for him.
Kellogg's Eggo Frozen Products – From Waffles and Pancakes to French Toast to Muffin Tops the kids love them for breakfast, and an easy snack. 
Schwan's Edwards Desserts Key Lime Pie – We all enjoy something sweet from time to time, and one of our favorites is Key Lime Pie!  You can find these sold as whole pies or in individual servings.  
You can also use frozen foods to make easy dinners.  
Don't forget about Mattie's favorite, Macaroni and Cheese, and Bud love his pizza!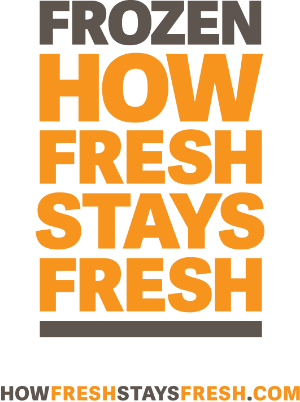 Frozen foods are ready when you're hungry, and they can easily fit into your busy lifestyle without compromising the nutrition or the taste.  
Freezing naturally pauses inspired recipes that are made with quality, fresh ingredients, and suspends them until you are ready to enjoy them; locking in the flavor, nutrients, and freshness, we want.  Freezing is how fresh stays fresh.
You can learn more about fresh vs frozen by visiting Frozen. How Fresh Stays Fresh.
What's some of your favorite frozen foods?