This is a Sponsored post written by me on behalf of ALPO® Brand Dog Food for SocialSpark. All opinions are 100% mine.
Are you getting your pups something special for Valentine's Day?  I always get my pups something.  I mean they are my furry children, who listen 90% of the time.  They don't mess up the house, or leave the refrigerator door open.  They are so good Santa even leaves them something in their huge bone stockings, lol.  Every year for Christmas I get my pups something food related, this years I got them beds, and well the look on Skittles and Piper's face was sad.  They love their beds now, but over the years they know when they are supposed to get a special treat.  They wanted their own can of ALPO's variety dog food.  So I decided to find my dogs am an awesome gift for Valentine's Day.  
Lucky for my pups I was asked to be part of this campaign, or they might have only recieved a bone.  Valentine's Day is right around the corner, love is in the air, and my dogs are begging me for more of the ALPO® wet food that's sitting on the counter, lol!  Every time I turn around I see Piper or Skittles with their Valentine's Day bowl, giving me that look.  The, oh mom please, it's almost Valentine's Day, we have been good, and will even do your laundry if we had thumbs look.  
I finally gave in, when Skittles had all 5 cans of ALPO's® wet dog food sitting next to his Valentine's Day bowl, the look oh his face was ridiculous.  There is no these faces can ever be ignored, and Skittles knows I am putty in his paw every time he pulls out the Magnum!  Tell me you would give him his own can of food..  I know my husband helped him, but still!  
Skittles is, and has always been very animated you can see how he is feeling by the look on his face.  When he is happy, mad, sad, or just wants you to be putty in his paw.  He knows how to get what he wants.  Oh, and did I mention that he is more than spoiled rotten.  I know like you couldn't tell.
Next up we have Piper, who is the sweetest yellow lab you will ever meet.  That is, unless you try to hurt one of my kids, in that case I feel very sorry for you.  I honestly didn't know this pup had it in her, but NOBODY will mess with her babies, lol.  It's funny she has always been very motherly.  Everyone that knows her tell us that she reminds them of that Nana dog on Peter Pan. She is super sweet, and you cannot help but just want to hug her, and feed her when she's putting it on thick for the ALPO® wet food that she knows I placed on the counter.
Piper is extra excited, she knows that she isn't going to have to mix her wet good with her dry food.  Typically, I mix Piper's hard food with wet food to get her to eat it.  She's my picky girl, and I am loving these 5.5 ounce cans.  They are perfect for mixing her dog food with.  I don't end up with any leftover that I have to figure what to do with.  I use everything, it's totally affordable, she loves it, and nothing goes to waste.  
I am not even joking, I purchased 6 of the 5.5 ounce ALPO Chop House wet dog food, and Skittles and Piper have been doing nothing but begging. Putting on that sad face, and trying to work their magic.  Maybe it's ALPO's variety dog food that has them begging, or maybe it's that it's 100% complete and balanced.
I think it might be because the ALPO Chop House 5.5 ounce cans offer unique flavors, such as:
T-Bone Steak Flavored Cuts
Tender Cuts with Lamp
Filet Mignon Flavor
Rotisserie Chicken Flavor Cuts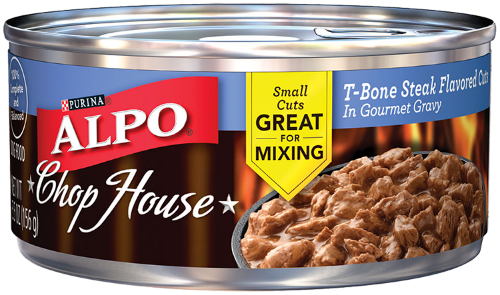 Each can of ALPO'S® wet dog food is 100% complete and balanced, and even come in small cuts or finely ground that are great for mixing with dry food, for those picky eaters like Piper, lol.  The small 5.5 ounce cans of ALPO® is also easy to store, and if you take your pup with you on vacation it's perfect for traveling.  Yes, we take Piper and Skittles with us when we go out-of-town if we are able.   Even better they love ALPO's variety dog food, and I like that it's affordable.
This is Skittles making sure you all know how much he LOVES ALPO's variety dog food, and that you should be sure and let your dogs try it.
Be sure to keep up with all the tail wagging fun and Like ALPO's Facebook Page, and check out all the super cute pups pictures via ALPO® on Instagram.