There's nothing better than the smell of an amazing candle traveling through the house, its event better when you find hidden treasure inside.  I was recently given the opportunity to review a candle from Hidden Treasure Candles.  I'm very excited to share this review with you.
Let me share a little about Hidden Treasure Candles.  You'll find the awesome owners of Hidden Treasure Candles in Hershey,PA.  Where they place help wicks and hand pour every natural soy candle with love and attention.  The natural hemp wick helps the candles burn more clean.
Customer service is one of my pet peeves.  It amazes me how business owners can treat their customers.  The way I look at is, you treat your customers like they write you paycheck.  You know in a round about way they do, I don't care if I'm doing a review or buying 10 candles.  In my experience Hidden Treasure's customer service rocks, but their products in my opinion are actually better.
My experience with the owners of Hidden Treasure Candles was truly positive.  They're amazing, sweet, easy to communicate with, and really enjoy what they do.  It shows in their candles.  People tent to do things a little better when they take pride in what they do.  It's definitely shoes in these candles, from the moment you take the lid off, the smell is truly amazing.  So there you have it, perfect mixture.  Great product + out of this world customer service = business.  They have mine, I love how amazing their candles are.
Now about this candle that I received from Hidden Treasure Candles.  I agreed to do the review on Friday night.  Needless to say nothing could be done until Monday.  I received an email from Hidden Treasure Candles, my product had already shipped.  WOW, I know right.  Had my candles a few days later.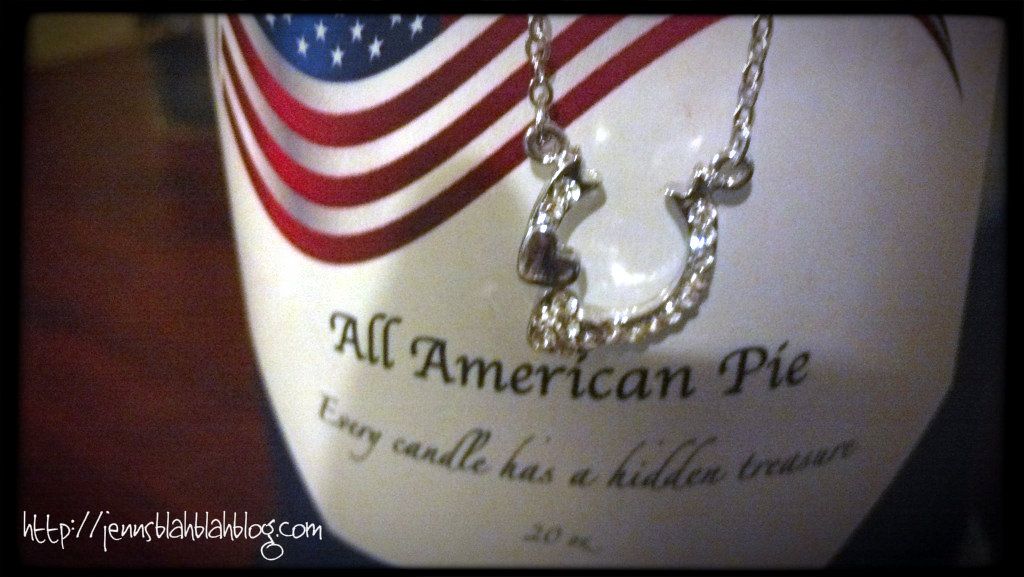 I received the 3 layer All American Pie soy candle.  All American Pie consists of 3 layers which are:
Strawberry Parfait
Southern Vanilla
Country Blueberry
They took three of the most popular scents and made it into their All American Candles.  It's red, white and blue to top it off.  The scents are amazing.  I actually am just now reached the Country Blueberry.  Every layer smells amazing, I can honestly say this candle smells wonderful.  I've bought other candles with all the goodies inside from other companies, so far Hidden Treasure Candles in my opinion and experience with the All American Candle smell bar far the best.
Like I mentioned earlier, I make my own soy candles.  I love it, and they smell pretty wonderful as well.  Not exactly sure what they are doing differently, but theirs smells better than mine.  Hands down they win, I hate admitting that too.  I've always said, 100% honest when doing a review.  So there you have it, I admit it!  Hidden Treasure
Candles smell better than mine.  Dang, that's hard, lol.  Guess that's why their on the other end of this review and not me lol…
Okay, so now about this Hidden Treasure business.  What's that all about?  Well in every candles, there's something fabulous.  Treasures are valued up to $5000.  Every 500 candles made contains a Grand prize inside, but remember EVERY candles has hidden treasures inside.  The grand prizes consist of:
iPad 3
Le Vian Necklace, value $1000
Tiffany & Company Pendant, value $5000
These are nice prizes too.
So what did I receive in my candles?  I received this beautiful necklace, isn't it pretty.  I was actually very surprised.  Not sure what I was expecting, but it wasn't something this pretty.  My 13-year-old has already ran off with it, and claimed it.  She wears it all the time, it looks fabulous.  However, she will not allow me to take a photo.  She thinks I am going to take it back, which she is right.  If she gets close enough for me to snap a photo of her wearing it, I sure will take it back, lol.  It's our relationship, if we can't get it back, so sad.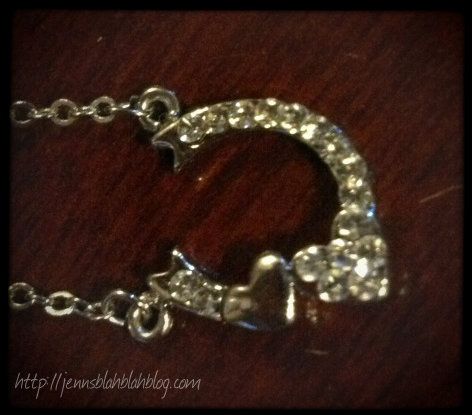 So to sum it up, I loved the candles!  No only did they look great, they smelled fabulous.  To make things even better the necklace I received is wonderful very pretty.  Something I would wear, if I could get my teenager to give it back.  Okay, so I am probably going to have to get sneaky and take it while she's sleeping, lol.  Hidden Treasure Candles gets TWO THUMBS UP, THEIR AMAZING!
Get your All American Pie Candles for only $25.20.  If you're interested in these candles simply visit Hidden Treasure Candles.