This is a Sponsored post written by me on behalf of STOLI® Vodka for SocialSpark. All opinions are 100% mine.
It's summer, and time for summer's refreshing cocktails.  It doesn't get more refreshing than this awesome  from Stoli!  If you like Lemonade you are sure to like it, and I just love that it's served in a Mason jar loaded with ice.  If you are looking for the perfect, refreshing cocktail recipe, thanks to Stoli, here is it the Lemonade Cocktail "Hero Recipe"!
Stoli Lemon-ade Refreshing "Hero Recipe"
2 Parts Stolichnaya® Vodka
4 Parts Lemonade
Directions
Build in an ice-filled Mason jar, stir, and garnish with lemon wheels.  You can also use a highball glass, but we love the Mason jar idea.
I am loving this lemonade cocktail recipe, the smooth grain taste of Stoli pairs perfectly with the tart and sweet notes of a scrip, cold lemonade!  You can make this fabulous, refreshing cocktail with Stoli Premium Vodka or one of the tasty Stoli flavors for an added twist!  Just think of the possibilities – Razberi Lemon-ade, and Blueberi Lemon-ade Mason jar cocktails sound amazing!  Thanks for the fabulous ideas Stoli!  I don't know about you, but my mouth is watering!
Does that sound tasty or what?  I don't know about you, but it has my mouth-watering.  I don't drink often, but now and then I enjoy a nice refreshing cocktail and this is first on my list.  I cannot wait to tell my sister-n-law!  She is my cocktail/Mason jar buddy.  See more Stoli recipes and ideas on Instagram.

About the "100 Days to Squeeze" Campaign
Without a doubt it's summer, and it's hard not to get in the mood with all the fun summer events happening.  Did you know that Stoli® Vodka is positioning the Lemonade cocktail as the must-have drink of the season as they launch the "100 Days to Squeeze" campaign?  They sure are, and doing it by celebrating this fresh twist on the classic summer cocktail, the original vodka brand will highlight the cocktails versatility and infusion of local ingredients using it's renowned flavor portfolio of Stoli® Ohranj™ Citros™, Stroli® Blueberi™, and the awesome Stroli® Razberi™.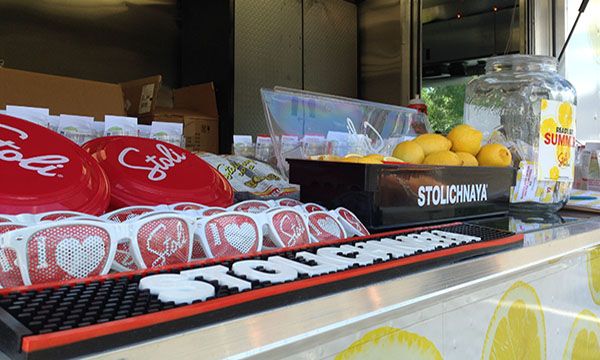 So let's squeeze the most of our summer at Stoli-branded lemonade tracks and national Stoli Lemon-ade bar night events.  There will be trucks, deemed 'limo-nades' that will head out across the count-try to sample Stoli Lemonade cocktails select accounts, serve amazing Lemonade ice pops, and having fun daring consumers to be part of the summer challenges!  Oh, not to worry I am sure they will be fun, and you will have a chance to win cool prizes!  If you live somewhere, and have the opportunity to engage in this fun summer activity with Stoli, have fun!  I wish they were coming to my neck of the woods!  So, I am only a bit jealous, lol.  Not really have fun!
Lemonade is not only a refreshing cocktail, it's one that can be made at-home, thanks to the simple recipe, and the fact that you are able to use locally sourced fruit and garnishes.  Stoli has created these very awesome, unique value-added packs, which if you have not heard of them, they are complete with the lemon squeezer, and glass Mason jar.  The value-added packs make it super easy for us to server our very own refreshing cocktails at our summer events.  Oh, and available at off-premise locations across the nation, these awesome value-added packs also come with a bottle of Stoli Vodka (750ml).
The brand is doing more than the Limo-nade trucks!  They will host more than 300 managed bar nights, in 12 cities across the nation in cities like:
New York
New Jersey
Denver
Dallas
Boston
Chicago
If you think this sounds like fun, be sure to Follow Stoli on Twitter for the latest #StoliLemonade updates!, See more Stoli recipes and ideas on Instagram, and be sure to visit the Stoli Facebook page.
When do you look forward to having some fun in the sun with a refreshing Stoli Lemonade?