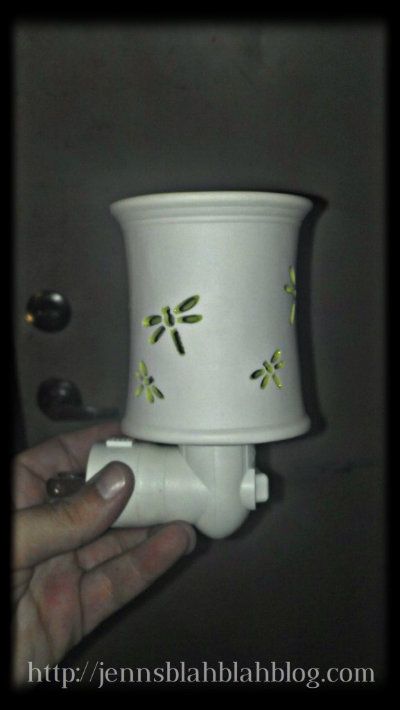 I am a big fan of Scentsy, if you have tried it you probably are too!  I have burners in almost every room of my home, although I needed one in my bathroom.  Scentsy is amazing and currently offer more than 100 scents.  These wonderful wickless candles are heaven and I have not come close to trying all of the scents offered!
Many of you have heard of Scentsy, but for those of you who have not yet been introduced to the best Wickless Candle on the market let me be the first to introduce you.  Scentsy is an amazing candle warmer system that offers a variety of decretive warmers, there's seriously something to match anyone's decor personality.
They offer different size warmers such as, Full-Size Scentsy Warmer, Mid-Size Warmer, and Plug-In Warmer.  They come in many different styles and patterns, you'll find everything from college sports teams to warmers for your children's rooms, along with holiday warmers, and their amazing scent and warmer of the month. The Scentsy Warmers use a low-watt light bulb to slowly melt the wax offering you an amazing, long-lasting scent.  If you have not tried Scentsy I suggest checking out Believe Wickless and contacting Anna Lessard Independent Scentsy Consultant.
I was asked to do a review by Anna Lessard Independent Scentsy Consultant, be sure to visit her at Believe Wickless and I Love Fondue!  Since I already love Scentsy yet need a warmer for my bathroom and have not indulged in all 100 scents, I choose to review the Damsel Plug-In Scentsy Warmer and Cucumber Lime scent.  Anna was nice enough to throw in an extra scent called Cinco de Mayo, which is part of the Bring Back My Bar Collection.
I have not tried the Cucumber Lime scent, nor have I tried any of the new spring/summer collection Scentsy Plug-In Warmers.  I have a large bathroom, it used to be a bedroom.  My husband and I decided to turn it into a master bathroom, IT'S HUGE!  I honestly wondered if the Plug-In Warmer would do the trick.
The Damsel Plug-In Warmer is amazing, there's adorable little dragonfly's and when the warmer lights up the wonderful dragonflies come to life.  The light shines threw, there's casting
shadows on the walls, it looks amazing!  This is the perfect nightlight, not only does it smell wonderful and fill not only my bathroom but bedroom too with wonderful Cucumber Lime and Cinco de Mayo scent but it's the perfect nightlight.  I love the shapes it leaves on the wall, my 2 year old and I sat on the bathroom floor for about 30 minutes looking at the shadows on the walls, truly fabulous!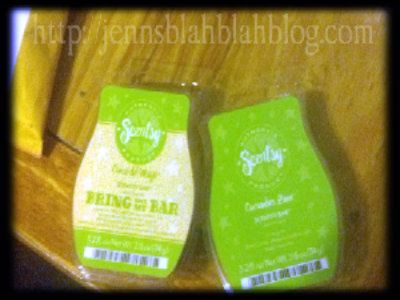 Cucumber Lime, WOW I think this is my new favorite scent EVER!  It's soft yet strong enough to fill your home with a clean, spa-like experience!  I have never smelled anything like it and I have always loves candles, scents, and Scentsy.  I really enjoyed Cinco de Mayo as well, its a clean smell flowery smell with a hint of line.  Fabulous, I cannot believe I have been missing out on these scents this who time.
I still have yet to try Scentsy's new bath and body products but I can almost grantee that they are amazing, every Scentsy product I have ever tried is fabulous.  They have really grown and become an outstanding company and name that you know you can trust, but this could not be done without their wonderful Independent Scentsy Consultants, like Anna Lessard.  I have very much enjoyed working with Anna, she has been amazing and trust me if you are looking for a Scentsy Consultant you cannot go wrong with her.  She contacted me, was so helpful, sweet and totally went our of her way to make sure I was happy.  I received my order in no time, AND TO MAKE IT BETTER, SHE FOLLOWED UP!  I work in customer service, and follow-up is important.  She contacted me to tell me what day my order would arrive and every time I contacted her I received a response right away!  I could not recommend her enough, I really think you will like her and I look forward to introducing my wonderful sweet readers to Anna!
Anna has been so amazing that she has donated $40 worth of Scentsy products!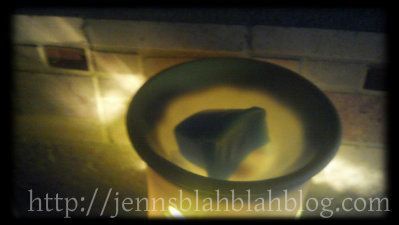 You know it time for a giveaway!  Be sure to thank Anna and sign up for her monthly newsletter so you know what's going on in the wonderful world of Scentsy and if you need to order you know you'll have someone that will deliver the best possible customer service experience!  You can also become a Scentsy Indepdenent Consultant and have your very own candle business as well, if you are joining the wonderful world of Scentsy you can contact Anna for more information, she is amazing and will answer all your question.
Visit Anna's Website www.believewickless.com
Contact Anna: uw_barbie@yahoo.com
Be sure to be on the lookout for the wonderful Smell Good Giveaway coming soon!