I have reviewed all kinds of awesome products, but this one was the most fun! It become more exiting once I opened the box and realized everything that came with it.  Reviewing SodaSteam was awesome,  I loved being able to make my own soda, my oldest daughter is always asking if she can make some soda for the other kids.  I know she just wants to play with it, because the SodaSteam really is that fun!
I was amazed at everything that was included in my awesome SodaSteam Genesis Home Soda Maker Kit!  Check out the above picture!  Yes, everything was sent for this review, isn't that amazing!
Products Received
Black Soda Make (SodaStream Genesis Home Soda Maker)
One bottle of carbonators.
9 Bottles of soda mixes
12 Samples of soda mixes
2 Bottles
3 MyWater flavors
Making soda with SodaSteam was super easy, I seriously thought there would be much more to it!
Making soda was a breeze, simply:
Attach carbonator to your SodaSteam machine
Add cold water to holding bottles
Twist the holding bottle onto machine
Push a button 3 times if you want average fizziness, I personally added extra fizz to mine.
Remove the holding bottle from soda machine
Add your choice of flavoring
Enjoy!
Making your own soda is seriously just that easy.  It takes about 10 minutes from start to finish.  Setting up The SodaStream Genesis Home Soda Maker Kit is simple as well, simply take it out of the box, counter, or wherever you will store it and your ready to go!
My children, probably like most don't mind the whole flat soda idea!  I cannot handle flat soda, which is a lot of the reason I never buy it in large bottles.  I only buy cans, and the small bottles, when I do buy soda!  SodaSteam storage bottles only hold 1 liter of soda, that's gone in no time in my house.  It's nice because it only takes a few minutes to make more fizzy soda.
The SodaSteam flavors were good, I personally enjoyed SodaSteam energy drink samples, but I am an energy drink junky.  It tasted just like many of the energy drinks we buy at gas stations.  I did feel like it worked,  I felt more energized, without  a hard crash like many of them cause.  Other popular flavors around my home were Cranberry Raspberry, Root beer, and Fountain Mist.  My husbands favorite is the Fountain Mist.  My children, I honestly don't think they care, they are just happy they get to make their own soda.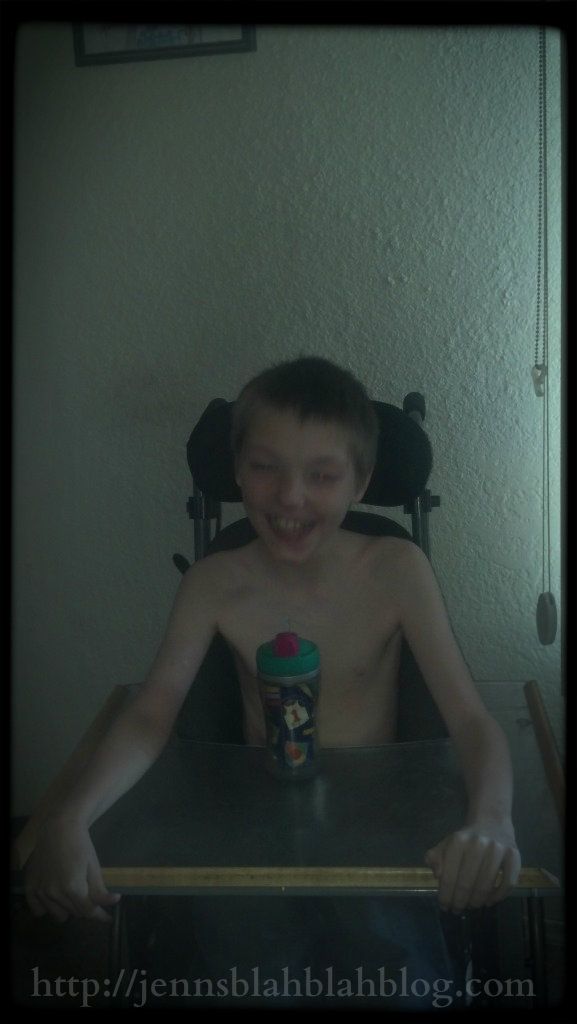 We have tried many of the different flavors, honestly my favorite (aside from the energy flavor), are the fruity flavors it tastes just like carbonated sparking water you're able to get from the store.  So yummy, if you're a soda drinker this nifty little machine can not only save you money, but it's much healthier as well.  You'll want to keep in mind that you'll need to buy more carbonator, but there are not very expensive and we still have not used the one that came with ours, we've put our soda machine to work too.  SodaSteam Carbonators are currently 29.99 for two bottles, but keep in mind to get them at this price they ask that you exchange your old carbonator bottle empty.
The soda favoring is made with Splenda, I truly love Splenda and prefer it to sugar any day of the week.  However, my husband said that they had the diet-y-taste!  Not all of them had the diet-y-taste, he didn't realize he made diet cola, what a nerd!  My husband is with the kids making some kind of new interesting soda.  They have began mixing, and naming, what they think will turn out good.  I have yet to taste on of their experiments that I would be willing to share for you to try at home, lol..  When they run into something that's wonderful I will be sure to share, until then I don't recommend mixing the soda flavorings and trying to come up with a new kind of soda!
If you choose SodaSteam you can enjoy all natural, unsweetened flavors, that are better for you and your family.  If you have been thinking about getting a SodaStream, I recommend SodaSteam Genesis Home Soda Maker Kit!  Be on the lookout for a SodaStream Giveaway, on Jenn's Blah Blah Blog!
Visit Online
Visit on Facebook