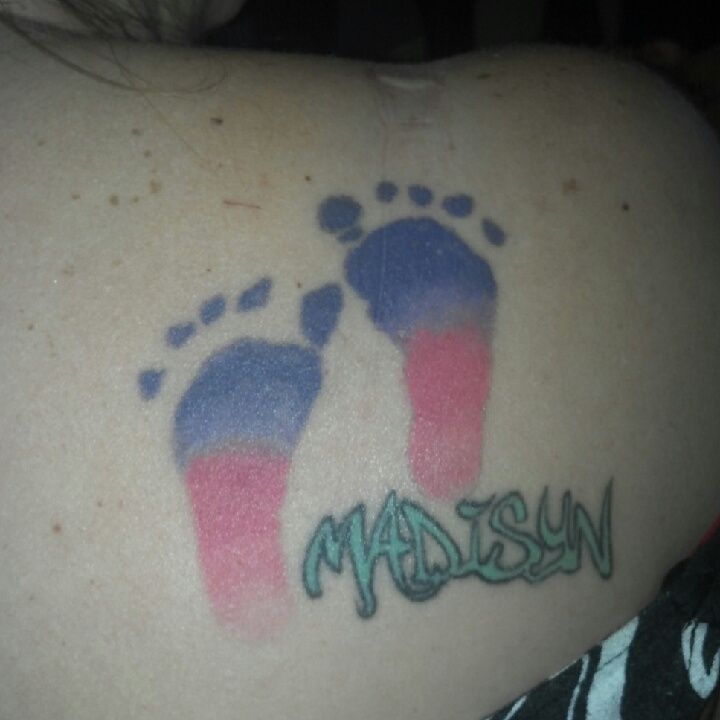 If you would have asked me 5 years ago what I thought about tattoo's my opinion would have been a complete flip-flop.  I grew up a country girl, riding horses, working hard, camping, fishing, helping dad work on cars, the typical tomboy activities.  I've never been much of a girly girl.  I think my love for pink is about as girly as it gets for me.
Growing up tattoo's were a huge no no in my house hold.  My dad was straight "country bunken", and my mom well she is still "hippie", neither one have a tattoo.  Tattoo's were always discouraged in my household.  My father saw someone with a tattoo, they were instantly a trouble maker.  My mom didn't agree with marking your body like that.  The whole you're more beautiful without them.
Growing up I hardly dated guys with any form of body art.  I honestly don't remember seeing anyone with sleeves until I moved out of my parents house and away from my hometown.  I moved to a large city, then I began to see people covered in artwork.  I was a 110 pound, single female, that lived alone in a big city.  My fathers way of thinking always set in the back of my head.  Tattoo's meant trouble, stay away from those boys Jenn.
Then I meet my one of my first friends after the move, she was covered in tattoos and lived a different lifestyle than I did.  She was an amazing person, and she had tattoo's.  HUMM, darn dad was wrong!  Not everyone with tattoo's was a trouble maker.  Her artwork was actually amazing, such detail and every tattoo she had stood for something that happened to her in her life, or someone she cared for.  They were not bad, they were actually special to her and reminded her of someone or something she cared about.
No too long after my eyes started to open about the true meaning behind "most" people artwork, my brother got his first tattoo.  WOW, I thought my parents were going to flip out!  They didn't, they actually accepted it.  Of course, like any parent they offered their opinion but that was it.  It wasn't too much longer and my brother had several
tattoos.  They were all special and something that a log of thought was put in to.  I think by this point my parents realized people with tattoo's weren't bad, I don't know if they every really believed that.  I think it was how I took it as a child, thinking back now they always discouraged us from getting them.  I don't ever remember my dad saying, "all people who have tattoo's are bad."  I remember him saying that there were certain tattoo's that were gang related and not something to be proud of or sport around.  I have to agree with him, sorry but I don't think I would be too proud of myself for killing someone, or belonging to anything other than my family.  So point taken, and now I fully understand what he was telling us while we were growing up.
I tossed the idea of tattoo's around for a while, but I think I was to chicken of needles to ever get a tattoo.  Not to mention I changed my mind about what I would get every other day.  If I was going to get a tattoo, it needed to be something I would be proud of, and not regret 2 years down the road.
Then I meet my husband, tattoo's on both arms, shoulders, legs, he's not covered, but close enough.  Him having tattoo's made me think about the possibility of "maybe, just maybe" getting one.  I never acted on it, I hated needles, pain and the thought of someone poking at me for hours with a needle made me sick to my stomach.
Then one day, while I was pregnant I went into the gas station and found this lighter.  It had the coolest dragon, I'd ever seen before.  I told myself if I lived through having my daughter I was going to get this tattoo.  I held on to the lighter for about six months.  I had no need for a lighter, I was pregnant. Yet I held on to this lighter, I had finally found something I knew I wanted to have tattooed on my body.
After I had my daughter, I didn't get the tattoo off the lighter.  I actually got my daughters feet and her name on my back.  However, less than a week later I was in the tattoo shop getting the tattoo from the lighter.  Since then, my husband and I had the date we got married tattooed on our ring fingers, and I've had several things added to my arm.  Needless to say, I'm now working on a sleeve on my left arm.
I'm a mother of four awesome children, 31 years old, and yes I will get another tattoo.  I actually have my next on  planned.  It's going to mean something just like all of them do, and it will blend great with what's already on my arm.
Being a tattooed mom I get some funny looks now and again.  For the most part people just want to check them out.  However I did get asked something that through me for a loop the other day.  I was at the store and I ran into someone I've known for a while.  She looked at me, looked at my tattoos and proceeded to ask, "what I was thinking having so many tattoos and being a mother."  I honestly didn't know what to say at this point, other than "wow, it doesn't change who I am."  I think at this point I embarrassed them a bit.
This little remark has really bothered me for a while, because I have tattoo's doesn't mean I am a bad mom or beat my children, or does it?  Pretty sure it doesn't because last time I checked I love my children, they are the reason I work as hard as I do, and put 110% into everything I do.  I also have a professional job, I'm a store manager for one of the largest banks in the US, and conduct myself professionally.  I don't think I act like a thug.
I think girls and guys with tattoo's are fashionable   What do you think?  They can still dress up, show their tattoo's and look amazing.  Honestly to me, I think tattoo's are hot. Girls with a sleeve, most guys love a chick with ink.  If not than, well then that's fine not their style.  In my personal opinion, my husband's tattoos are sexy.  Tattoo's don't change who the person on the inside is, but it does change their appearance.  What do you think about tattoos?  Do you like them, or are they not for you?