Windows #HTC8 X Phone Fashion Show- Children's Winter Fashion #Troop8x
I have been dying to take more pictures of the kids with my new Windows HTC 8x Phone. Which is never a problem, my children are camera hogs. The Windows HTC 8x Phone in the picture to the left is exactly like mine, same color and everything. Okay, mine is personalized completely different. Other than that, it's the same awesome phone. My children love the camera, so I asked my kids, if they would get dressed in their winter cloths, so they could be my models for a children's fashion post I needed to do for my blog. Just as I expected, they agreed right away, and took off into the bedroom to begin planning. After about an hour, I start asking what they are doing. It's never good when you hear, "we're almost done mom, but don't come in." Then I hear my toddler say, "she's my mom." In Mattie talk that means, mom can come in if she wants. It was one of our cold days, or I would have rescheduled the fashion show for outside. From the sounds of things, it was going to need to be outside. Darn the cold, always comes on days like today. I just knew it, I was going to get silly stringed or something.
Then they make me sit down, and close my eyes. Immediately after I they told me that I knew something crazy was going to happen. I start going through things in my mind, "we don't have whipped cream, Catie already put shaving cream all over Vayda, nope we cannot have super glue Catie used it all when she super glued Vayda to the toilet seat last week, hummmm what in the world are they planning." I didn't let them know I was nervous, okay scared out of my mind, lol. I knew something was up, normally when this happens someone gets hurt, shaved, super glued to toilets, covered in something, tripped, hair sprayed, something happens that requires tons of clean up, and normally a talk, lol.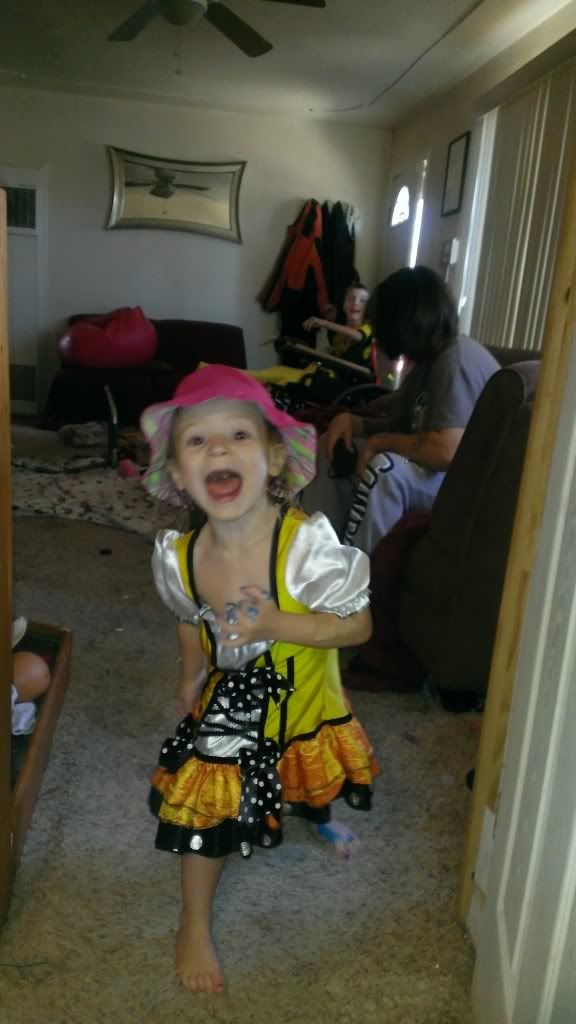 So out walks my little toddler Mattie dressed to impress. You'll see Mattie sporting what is supposed to be a butterfly costume that is too big, and without the wings. She's also wearing her spring hat, because where we live its easy to get confused as to what season we're in. One day it's 75 degrees, the next it's freezing. Perfectly done Mattie. She's even owning the walk, check her out. Yea, buddy that's my baby!
Vayda then calls Mattie back into the bedroom for changing. I know, sometimes I have to remind them Mattie isn't a doll, she's a person with a very strong opinion. Let me tell you she will lay it out for you too.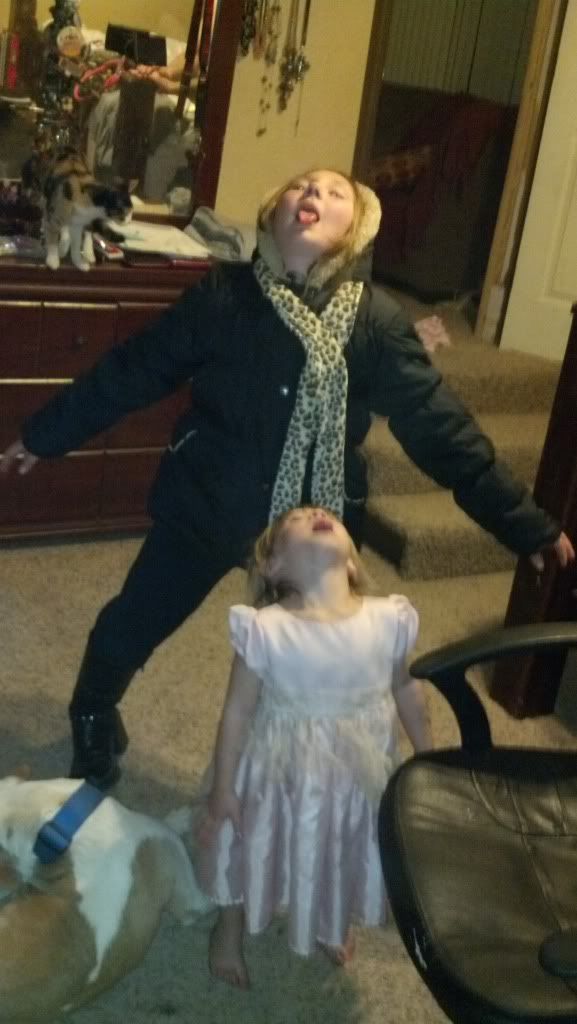 Next out comes Vayda and Mattie, looking sharp. Vayda is in her winter jacket. She's sporting the cheetah print scarf, leggings and moms boots which she did not ask to borrow. Oh, well I get on her about that later, after the fashion show, lol. okay I am feeling better about things. You'll see Mattie sporting her totally ripped princess dress, that she refuses to let mom get rid of. They are catching snowflakes on their tongue. We have to pretend in the desert.
This would be them busting some moves for mom, while she snaps shots with her new Windows HTC 8x Phone. Which, I love being able to grab my phone out of my handbag and start taking pictures of my kids!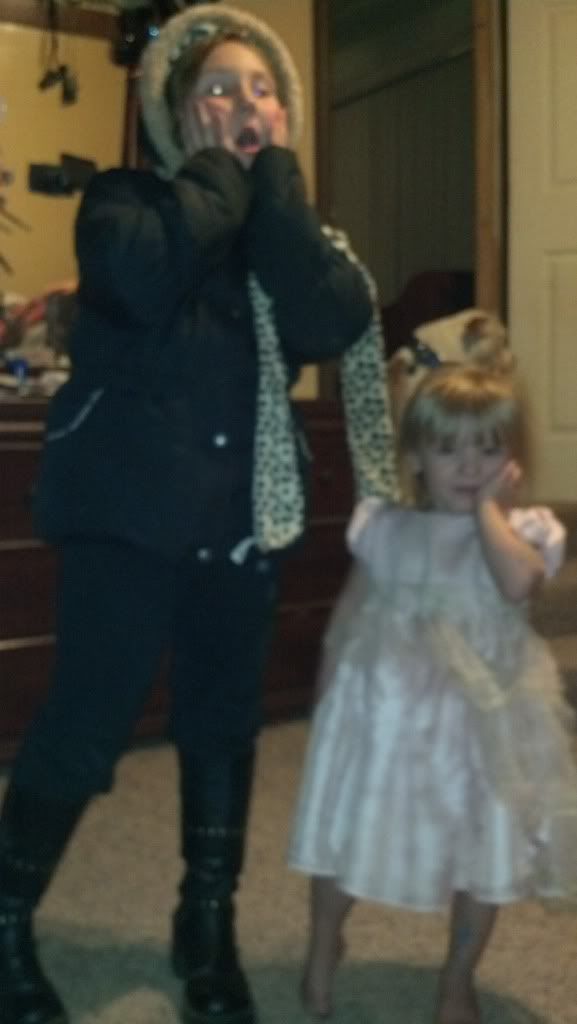 THEN, IT HAPPENS. Things start to get a little weird, lol. They run back into their room, twenty minutes later they come back. My sweet babies have transformed into diaper head, wonder diaper girl, and cone beak. They then tell me that lady Ga-Ga inspired their fashionable winter clothing. LOL,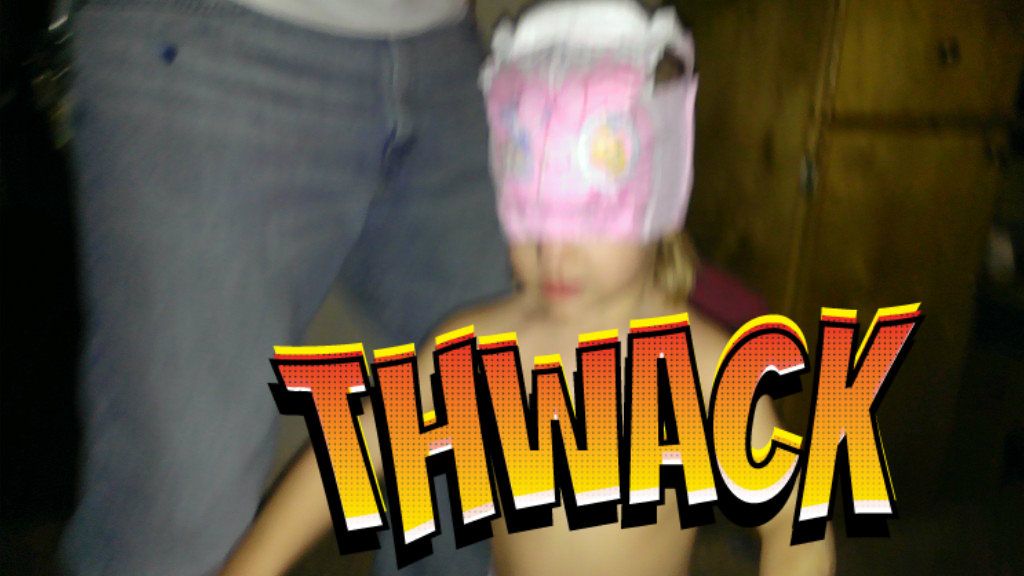 Here in Mattie, who cannot see due to the diaper on her head. I wish the picture would have turned out better, but at this point I was laughing too hard to hold the camera still. I did have to edit the picture, at this point she was done with clothing.
Next, is Catie. You'll see Catie sporting her PJ's, and a party had as a cone beak thing. She was the brains behind the fashion show, and didn't have much time to find anything fashionable for her to wear. I tried to take a video of how she came walking into the living room but I couldn't do it. Oh, no way the camcorder is easy to work. I was just laughing so hard I thought I was going to pee in my pants. I'm sure all you moms out there can relate, your bladder just isn't the same after kids, lol.
Whatever you do don't tell her you saw this picture she's 14 years old now, and this would ruin her until she moved away and went to college, lol. Teenage drama, I think it's worse now than I ever remember it. Last but never least is Princess Diaper Vayda! You'll see Vayda wearing the same cone beak as her sister, with a princess cape, and a diaper on her head. Doesn't she just look amazing? But wait, if you've made it this far, I have saved the best for last. Keep on reading………………..
Vayda then takes off her pink princess cape, and has transformed into Wonder Diaper Head Vayda! You'll see Wonder Diaper Head Vayda with muscles as soft as Huggies Little Movers, and Huggies Pull-Up's! Yes, those muscles are not real. I know I could hardly tell myself, they're actually squashed up diapers!
(FYI, at this point if I could move off the floor without peeing my pants, I might have been upset about her wasting diapers. These kids know how to take advantage of mom when she's down. They run and get on the trampoline I'm mad, lol. After having a child, this mom doesn't dare try to get on the trampoline That's almost teasing your bladder, for the love of not peeing my pants I stay off the Trampoline. I don't know about you, but I think I have the most fashionable kids on the block. I'm sure you can see by the pictures, THEIR WINTER FASHION ROCKS! Really it does, how much fun are they having. I love it when my children act silly together like this, everyone pitched in to help mom with her blog post, lol. There's nothing better than being a mom, and you're children blessing you with memories to hang on to for the rest of your life. Nothing except being able to catch them doing it on camera so you can always remember how much fun that day was. Oh, and so you can frame them with those pictures too. If those girls bring home a boy, guess what mom and dad will do? Pull out the stack of pictures that say "embarrassing pictures of the kids." Yes, we keep them labeled like that for framing them later in life. You've seen my girls, what else are we supposed to do, they're some of the most beautiful gals I know, inside and out. Okay maybe I am not going to frame them with their picture, I will just threaten them, lol. I hope you enjoyed our fashion show. All pictures taken with my awesome Windows HTC 8X Camera! It does such an awesome job, but better than that I love being able to easy snap those memories and save them to my SkyDrive!
Content and/or other value provided by our partner, HTC.